As the Finns say, never is a man as beautiful as an hour after leaving the sauna.
Relaxed, cheerful, with a soft, slightly pink skin.
Warming up and cooling down the body not only toughens it, but is also a beauty treatment.
Bathing in the sauna causes the body to heat up intensely. Moisture and heat expand the pores, facilitating the penetration of nutrients, and the skin is more oxygenated. These are perfect conditions to carry out exfoliation and vitamin treatments. Such treatments can also be performed on your own – you only need to choose professional sauna cosmetics. Those based on natural ingredients do not irritate the skin and retain their proper consistency despite high temperature.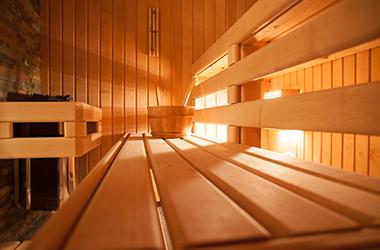 Scrub – it's best to apply it after the first session in the sauna, when the skin is well warmed up. After rinsing the body with water and thoroughly wiping it dry, spread the product and go back to the hot room. It is better to avoid applying too thick a layer so that the scrub crystals will not fall off. The product can also be massaged into the skin, supporting the process of exfoliation.
Loose scrub, delicate salt dust for use in the sauna. Gently removes calloused epidermis and toxins from the skin surface, making it smooth and soft to the touch. It smoothes the skin and the massage makes the blood flow better. It provides precious minerals to the skin. An additional effect is aromatherapy as the scrub has a natural, intense aroma. It has been created so that the product is easy to use and does not leave marks on skin.