Master in psychology, graduate of the University of Social Sciences and Humanities SWPS and a therapist.
She perfected her skills at the Solution Focused Therapy Center, where she completed the 1st and 2nd degree TSR training.
She constantly develops her competences by participating in specialist trainings, i.e. NVC – I and II degree communication without violence in the TSR trend, and training in the Psychological Skills Study, incl. working with anxiety or facing a development crisis.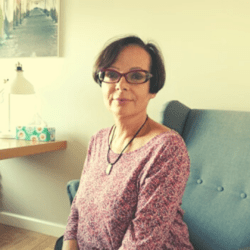 She also completed a therapeutic internship at the CTSR Specialist Center in Sopot, educating and developing skills in working with clients.
The work of Mrs. Elżbieta is subject to constant group and individual supervision by licensed TSR psychotherapists.
When working with other people, it is important to find their inner strength needed to initiate changes in their life, build the future, reveal skills that positively affect motivation and change.
In a private practice, she works with adult clients, adolescents and deals with couple therapy.