Ultrasounds are low-frequency waves that deliver specific active substances to the deeper layers of the epidermis. Ultrasonic waves penetrate the protective layer of the epidermis, which is constituted by horny cells. Ultrasounds enable deep skin micromassage, thanks to which cells responsible for the production of collagen and elastin are activated.
Ultrasound therapy is non-invasive, completely safe and gentle, increases the effectiveness and quality of treatments and enhances the action of active substances.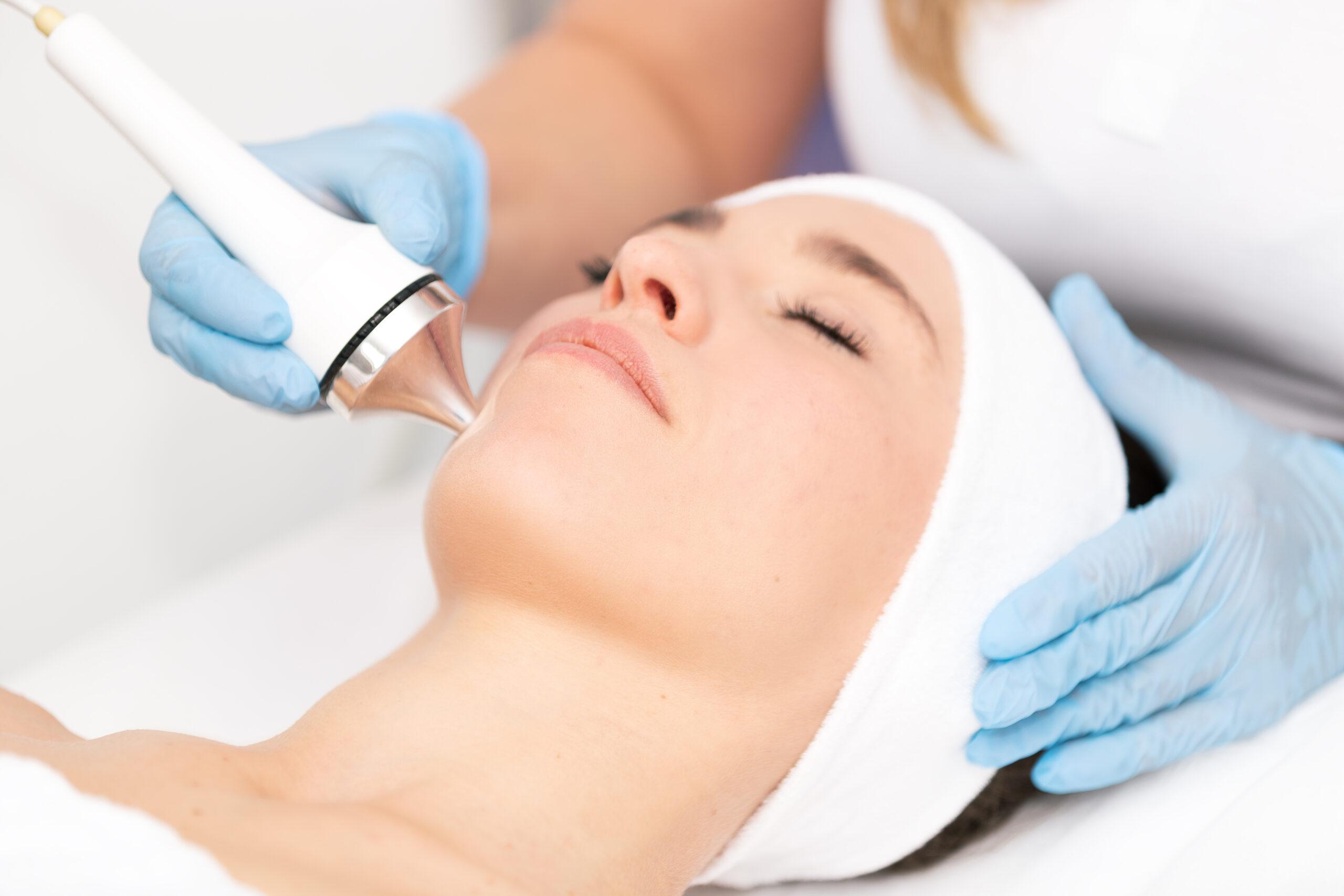 Ultrasound is a very safe method and is often used even on sensitive skin prone to irritation. Then, during the procedure, a special gel is applied to the place where the procedure is performed. It is thanks to him that the wave penetrates the skin without any disturbance. Nowadays, ultrasounds are used with great success in cosmetology, such as cavitation peeling and sonophoresis.
A special apparatus is used for the ultrasound treatment. It is equipped with a head which is subjected to vibrations at an ultrasonic frequency. Cleansing preparations with active ingredients and moisturizing lotions are pressed into the pores of the skin. This significantly increases their effectiveness in action. The applied therapeutic cosmetics together with vibrations cause a temporary expansion of pores and their softening.
This enables the thorough removal of unnecessary impurities, dead epidermal cells and cosmetic residues. Thanks to vibrations, the skin gets the right level of hydration and becomes smooth. Blood circulation is improved, cell metabolism is increased and skin tissue is strengthened.
Micromassage can be performed with ultrasound. It is perfect for mature skin because it has strong lifting and rejuvenating properties. However, it must be remembered that in order to obtain the expected effects of ultrasound, appropriate coupling preparations must be used. They ensure proper contact of the head with the skin, and also facilitate the introduction of the appropriate active substance into the skin.
Ultrasound can be used in cosmetic treatments for various skin problems, including:
deep cleansing of the skin,
reduction of wrinkles and improvement of skin tension,
removing dark circles under the eyes,
removing discoloration and scars,
reduction of acne and skin imperfections,
reduce pores,
improving skin hydration,
reducing excess body fat,
reducing cellulite.
Treatment frequency:
once a week every week
in a series of 5 to 10 treatments
Price:   300 PLN
Time:    60 min