Micro-needle radiofrequency (RF)
Fractional microneedle radiofrequency is one of the most modern therapeutic methods in aesthetic medicine. Microneedle fractional RF is particularly effective in removing stretch marks. It is currently the only method that allows you to remove even old stretch marks. The effects of the treatments are spectacular.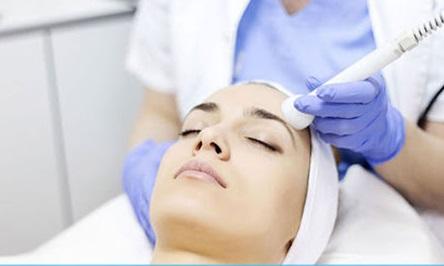 Microneedle RF fractional treatments involve simultaneous microneedling and heating of the skin with radio waves. The head of the device is ended with a disposable, sterile cap equipped with 25-49 gold-coated microneedles, which are heated to 45-60 degrees Celsius after injection.
When we put the head to the skin, the needles stick to the programmed depth, and then an electromagnetic pulse is sent to heat the skin. In this way, in contrast to the usual radiofrequency, not only the surface of the tissue is heated, but also its deeper layers – from 0.5 to 3.5 mm (with the possibility of fine adjustment).
The effects of fractional microneedle radiofrequency treatment:
elimination of stretch marks (this is the first and only method that allows you to get rid of up to 100% of old stretch marks),
reduction of shadows under the eyes, tear valleys,
reduction of wrinkles,
reduction of scars, including acne scars,
reduction of enlarged pores,
reducing the so-called "Second chin" and "hamsters",
improvement of skin tension and elasticity,
improvement of skin density,
correction of facial asymmetry,
reducing sweating (surgery performed in the armpit),
lifting of the face, neck and abdomen.
Price:   600–1600 PLN
Time:    60 min